Complete front axle

General
The front axle is designed as a rigid axle and fitted with two coil springs. The characteristic curves of the coil springs are linear. Gas pressure shock absorbers are installed
in parallel with the coil springs in order to absorb the vibrations of the body and to assure contact with the road surface. The front axle has a track of 1425 mm as standard.
Axle location
The front axle is located by two trailing arms which absorb the starting-off and braking torques, and a track control arm (Panhard rod), which absorbs the lateral forces. The trailing arms and the track control arm are mounted at the frame and at the axle in maintenance-free rubber elements. In addition, the front axle is equipped with a stabilizer bar which minimizes the roll tendency when cornering.
---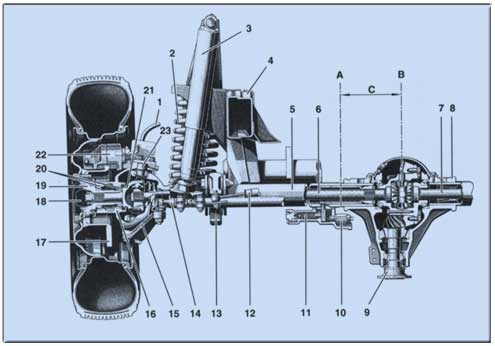 Front axle design
1
Brake line
14
Track rod
2
Coil spring
15
Knuckle arm
3
Gas pressure shock absorber
16
Joint housing
4
Frame
17
Brake disc
5
Axle tube
18
Grease cap
6
Left drive shaft
19
Wheel hub
7
Right drive shaft
20
Tapered roller bearing
8
Axle housing
21
CV joint of drive shaft
9
Drive flange
22
Fixed caliper
10
Differential lock indicator light switch
23
Steering knuckle pin
11
Differential lock slave cylinder
A
Axle center
12
Steering shock absorber
B
Axle housing center
13
Trailing arm
C
190 mm
The front axle consists of an axle housing (8) with interference-fit axle tubes (5). The tube ends are designed as a spherical shape for mounting the CV joints of the drive shafts (21).
The wheel bearing is achieved by means of two tapered roller bearings (20)
The axle housing center (B) is offset 190 mm to the right compared to the axle center (A).
---
| | | |
| --- | --- | --- |
| | | |
| | | A bevel gear differential with engageable differential lock is installed in the front axle. The difference in speed when cornering is compensated by the four differential bevel gears (27). These are mounted in the differential housing (29). The input shaft bevel gears (30) are connected torsionally- resistant to the drive shafts (6, 7) by means of a gearing. installed in the front axle. The difference in speed when cornering is compensated by the four differential bevel gears (27). These are mounted in the differential housing (29). The input shaft bevel gears (30) are connected torsionally- resistant to the drive shafts (6, 7) by means of a gearing. |
Differential design
6
Left drive shaft
26
Differential cover
7
Right drive shaft
27
Differential bevel gears
8
Axle housing
28
Drive pinion
9
Drive flange
29
Differential housing
24
Oil filler plug
30
Input shaft bevel gears
25
Ring gear
---
Function when driving straight ahead
Both driven wheels rotate equally fast. Consequently, the two drive shaft bevel gears (30) also rotate equally fast. The differential bevel gears (27) do not rotate about their own axis, but orbit as drivers together with the differential housing (29) which is connected to the crown wheel (25). Consequently, the differential bevel gears (27) transmit the speed coming from the engine in equal portions to the drive shaft bevel gears (30).

x Direction of travel
Function when cornering
(shown in right-hand curve)
When negotiating a right-hand curve the outer (left) driven wheel must cover a longer distance than the inner (right) wheel. Consequently, the left drive shaft (6) must rotate faster than the right drive shaft (7). The difference in speed between the drive shaft bevel gears (30), which are connected to the drive shafts (6, 7), is compensated by the differential bevel gears (27). In this case, the differential bevel gears (27) rotate about their axis.
The inner driven wheel rotates more slowly by the amount by which the outer driven wheel rotates faster, provided the power is transmitted uniformly and both wheels have the same adhesion. In this case the torque transmitted is equally high.

x Direction of travel