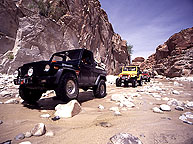 Mercedes 280 GE, Alfa Romeo blue, 1982, I-6 2.8 liter gas engine, BESTOP bikini top, 4 speed automatic transmission, 1st gear 4.07:1, low range 2.14:1, axle ratio 6.17:1, torque converter ratio 2.3:1, K&N filters , fully synchronized transfer case, hydraulic differential locks front & rear, power steering, power brakes, BFGoodrich BAJA T/A 35x12.50 R 15,
AMERICAN RACING 8 x15 alloy wheels, BLACK DIAMOND shocks, coil springs, RECARO seats, power steering, PREMIER 160A alternator,
ALINCO 45 Watt FM + CB communication-radios, HELLA Rallye 4000 lights,
WARN XD 9000i winch, PULL PAL winch anker. Crawl Ratio 124:1


Mercedes-Benz offers another impressive 4WD, the ML320
Here is more about my experiences with the Mercedes-Benz M-Class .




The Mercedes G is one of the best build 4WD vehicles on this planet - but they still need spare parts on a rare occasion. Fortunately parts are just a phone call away. EUROPA, America's best Mercedes G service has supported me extremely well over the years with technical advice and parts.

| HOME | | 4WD Expert Seminars | RUBICON-TRAIL.COM | | 2008 Rubicon DATES |
| VEHICLES | | 4WD 101 | | Adventure STORIES | | search |

Copyright © 2005-2008 Harald Pietschmann. All rights reserved.

Copyright © 1996-2005 Harald Pietschmann. All rights reserved.