© 1998-2005 H.Pietschmann

ML320 Suspension modifications


Eibach Springs of Irvine California, the world's leading aftermarket performance suspension company, made some subtle changes to this ML320.

The preload on the stock torsion bars was adjusted and the rear coil springs were replaced with Eibach Pro-Kit (P/N2358.120). It's progressive spring characteristic together with the achieved lower center of gravity provide a crisper ride and safer handling. It also gives the ML a more balanced and aggressive appearance. It's progressively wound performance springs put "Sport" back in SUV.





An important element in reducing unsightly fender to wheel gap was the addition of larger 17" Momo Status wheels. shod with Yokohama 265/60ZR17 AVS ST tires.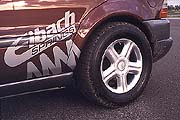 The result is a precision blend of performance, style and utility....and when pavement ends, the fun is just beginning.


A Yakima bike rack securely fastens two mountain bikes that are on par with the ML's Luxo/Sport image.


The performance mountain bikes featured here are suspended with Eibach custom wound springs front and rear. Drawing on their years of suspension tuning and partnership with various professional racing teams, such as the McLaren F1 team, Eibach designed the Eibach Multi-Pro MTB, a high performance spring replacement kit for the Rock Shox Judy fork. The Eibach Multi-Pro MTB kit consists of a fender, center, and main spring combination very similar to automotive racing applications. The result is a more compliant and responsive fork for all types of terrain. The rear spring is wound per the bike manufacturer's specifications to compliment the bike's unique suspension geometry.