updated 03-03-08










© 1997-2008 H. Pietschmann.
ML320 with LT 265/75R16 BFGoodrich tires

For my Baja California Expeditions I added the best tires I could find: BFGoodrich.
To gain ground clearance I opted for a set of 265/75R16 BFGoodrich All Terrain tires. The ground clearance improves by about 1.2 inches. Taller sidewalls provide comfort & safety.
This tire is quiet like a ride on clouds. I noticed no loss in performance or fuel economy.
I recommend this tire to anyone who needs to travel rough roads, still expects the highest comfort and safety on-road. The "LT" rating (light truck) of this tire guarantees strength and durability for off-road use - "P" rated tires (passenger car) are not recommended for any kind of off-road use. "P" rated tires are like elegant shoes for around town - "LT" tires are like hiking boots for rough terrain.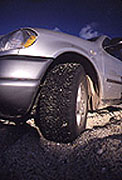 The stock 255/65R16 tires by General have a measured diameter of 28.39 inches.
If using 265/75R16 tires BFGoodrich A/T tires which measure 30.78 inches in diameter
all indicators installed in your ML320 (odometer, trip computer etc) will be off by about 8%.

Add 8% to all shown numbers (trip computer, odometer) to get acurate values.


The 265/75R16 BFGoodrich All Terrain tires I selected are 0.8 inches wider than stock
and have a 1.2 inch taller sidewall than stock.



click on picture to get larger image


In addition to larger tires I adjusted the front torsion bars to get a more level appearance for my ML320. Ground clearance: 9.75 inches front and 10.25 inches rear. Now I am really happy and the difficulties I had initially in comparison to my Jeep Grand Cherokee are history.
My personal opinion: BFGoodrich tires are unsurpassed off-road champions